DICE NORTHWEST
Thursday 16 April, 2015 09:45 - 17:00 AND Friday 17 Apr, 2015 09:30 - 15:30 | Letterkenny Institute of Technology
---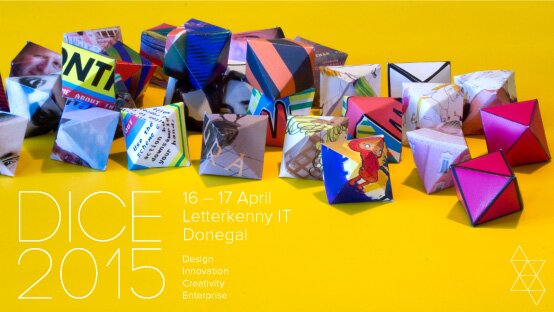 In conjunction with Honeycomb - Creative Works, DICE (Design, Innovation, Creativity, Enterprise) 2015 is a conference that aims to discuss and elevate the role of design in adding value to business and society, both in the minds of practicing designers and clients, while also being a source of inspiration to students and practicing designers in the wider North/North West region of Ireland. (http://www.dice-lyit.com)
The conference will take place over two days and features an excellent and eclectic range of speakers working in film and broadcast, animation, graphic and interaction design, design thinking and innovation such as Alex Connock, The Stone Twins, Post Studio, Toby Scott, Chris Murphy and Annie Atkins.
Speakers:
Alex Connock is Managing Director of the fast-growing TV and digital content production company Shine North, producing programming for global channels such as BBC, Discovery and Nat Geo, as well as UK broadcasters and brands such as Diageo, Poker Stars, Heinz and Jaguar. He was previously co-founder with Bob Geldof and chief executive of media group Ten Alps, which produced hundreds of TV series for UK, European and global markets as well as market-leading sector-specific digital video channel Teachers TV.
Christopher Murphy is a best-selling author, speaker and designer based in Belfast, who has founded a number of successful digital startups. A passionate educator and mentor to many young entrepreneurs, Christopher leads interaction design provision at The Belfast School of Art, where he has championed a successful startup culture for many years.
Enthusiastically exploring the intersection of design and business, he is currently hard at work re-imagining the future of design education through a new startup, which he will be unveiling shortly.
Corrina Askin trained at the Royal College of Art, London and has been commissioned by Channel 4, MTV, RTE and The Irish Film Board to write, animate and produce short animated films.
Over the past ten years she has worked principally in creating IP for children's TV and Media. Among other broadcasters, her work is shown on Cbeebies, Milkshake Channel Five, Disney Latin America, Canal + and ABC Australia. She currently has two series on air with a further two in pre-development. She writes, designs and co produces on all her work.
Keith Finglas is an experienced programme manager and team leader, used to managing and delivering scopes around strategy, routine objectives and crisis situations - or what one client called 'living in the middle of gory messes'. He helps teams do projects better, either by improving their solution definition via Design Thinking or their delivery execution through good project management skills, processes and behaviours. After working in Europe, U.S.A., South America, Middle and Far East for G.E. (U.S.A.), Guinness U.K. and, finally, Intel Ireland, Keith set up Innovation Delivery in 2007 with his business partner Christine Kurjan. A co-author of an Intel paper on innovation in software development, Keith has a strong interest in education. Innovation programmes started by IDL in Ireland have seen over 1,500 participants complete their courses over the last 7 years.
Lisa Kelly has more than ten years' experience working as a graphic designer and motion designer, throughout the Northwest. She holds key skills in both mediums, from initial concept creation, to shooting film, green screening, compositing, web design, animation, branding and print management.
Lisa has worked with 360 Production in Derry for four years, where she has worked on graphics and animations for major TV channels and online entertainment, such as BBC, Channel 5 and You Tube. Such projects include; Digging for Britain series 2 & 3, Dig WW2 with Dan Snow, Titanic with Len Goodman, War Hero in my Family, James May's Things You Need To Know – Series 2, James May's You Tube Channel - Head Squeeze, BBC Science Shorts and most recently BBC documentaries, Lusitania and Somme.
The Stone Twins are Irish twin brothers Declan and Garech Stone. Their Amsterdam-based studio is known for its concept-driven, engaging and witty work. They are best known for their critically acclaimed book Logo R.I.P., the new cultural landmark A'DAM Toren, and their forthright opinions.
The Stone Twins will share some insights on their practice and answer (as best they can) all questions on Thursday April 16th. Enjoy in Super Stereo!
DICE 2015 is not to be missed so register now!